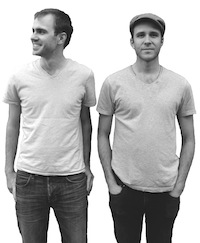 The Seznec Brothers are Cory and Yann. They really are brothers, though it may seem like an elaborate ruse to gain credibility. Cory lives in France. Yann lives in Scotland. When they meet up they make music.
They have played music together for about 20 years. Their influences and musical interests are vast, ranging from Appalachian banjo music to 20th century electroacoustic composition by way of 1960s West African pop and interactive sound art.
Using mostly acoustic instruments including gourd banjos, pianos, guitars, the brothers defy strict categorization. Their music is strongly rooted in tradition yet forward looking, introspective yet universal, straightforward yet complex.
Their album "Jagged Land" is now out.